Torah Academy
Nurturing the Future of the Jewish People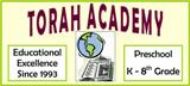 "Rebuilding Our Community One Unique Child at a Time"
Torah Academy is temporarily located at Chabad of Metairie 4141 W. Esplanade, Metairie, Louisiana, 70006, and can be reached via email torah.academy@yahoo.com.
The Torah Academy institution looks forward to providing excellence in education, in a warm Jewish environment, for years to come. The goal of Torah Academy is to develop the whole child, by providing a quality education that promotes academic achievement, Jewish values and observances, love of learning, life skills, and the ability to pursue the profession of choice. Administration, teachers, parents, and students work together as a team, in a joyous atmosphere of respect and cooperation.
 Its State approved general studies department offers a rigorous academic curriculum in English, math, science, social studies, P.E., and computer science application. The comprehensive Judaic studies department brings the Torah alive for the students, applying its values to their everyday lives. Students learn the Hebrew language, while their love for the land of Israel is nurtured. Art, drama, and the use of computer technology complete Torah Academy's well rounded scholastic program. Torah Academy also offers a variety of extra curricular activities. Among them, the Chess Club competes on a championship level.